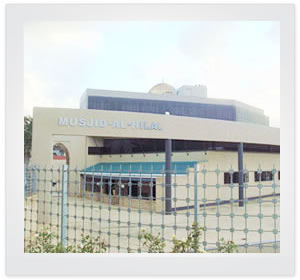 Hajee Ebrahim Padia Saab (Rahmatullah Alaih)
When Haji Ebrahim Padia Saheb of Isipingo Hills was young and newly married, his cousin Haji Bhai Padia (Rahimahullah) made effort on him to spend time in the path of Allah Ta'ala. It was after engaging himself in those days in the effort of dawat, that he eventually sacrificed and dedicated his entire life for the purpose of Dawat and Tableegh and travelled to many parts of the world for the sake of Deen.
Amongst the countries he visited in the Path of Allah were –
England, West Indies, Australia, New Zealand, Brazil, India, Pakistan, Bangladesh, Saudi Arabia, Hong Kong, Japan, Qatar, U.S.A, Canada, Belgium, Guyana, Switzerland, etc.
In 1973, his Jamaat was responsible for taking out the first 4 months Jamaat from West Indies, Trinidad. Haji Sahib thereafter continuously made effort in these counties and personally travelled with a group of youth from Trinidad, to enrol them in Darul Uloom Sabeelur Rashaad, Bangalore, India, which eventually lead to these Ulama opening 'Darul Uloom Trinidad' many years later, which runs until today and over 100 Ulama have graduated from this institute.
Haji Ebrahim Sahib was a man of noble and exemplary conduct. He used to have immense respect for all Ulama. When he met an Aalim his face would lite up in happiness, and he used to kiss their hands out of respect for them. When the Ulama tried to pull back, he pleaded that please, you are Ulama, give us a chance, please!
He had this akhlaaq with students still becoming Ulama as well, he used to say, you are half an Aalim already, give us a chance, please!
Haji Ebrahim Sahib lived a simple and contented life, giving just 2 to 3 hours daily to sell merchandise and make effort for his sustenence, and the rest of his time was dedicated to the work of Deen and establishing the a'maal in the musjid.
One of the statements he used to always make was, "I heard Ml Zahir Shah Rahmatullahi Alaih, who used to be the Imaam in Raiwind say, a'maal ko ghaalib karo. So respected brothers, we have to be engaged in lot of a'maal." This attachment to a'maal was noticeable in Haaji Sahib's life, both at home and whilst on safar (journey).
People mentioned that if you looked at him, you would be struck with awe but when a person got to know him, he would realise that he had an extremely soft heart and was filled with kindness and compassion.
He had a very close relationship with the elders of tableegh from India and Pakistan and had a special bond with Moulana Saeed Ahmad Khan Sahib of Madeenah Munawwarah, with whom he travelled to different parts of the world in tableegh. Haaji Ebrahim Sahib was one of his close khaadims (attendants).
The night after he passed away, his daughter in law had seen in a dream that Haaji Sahib entered the house, made salaam as his usual habit, and he found his wife sitting in the lounge reciting the Quraan. Haaji Sahib told his wife in gujrati, "Do you know what a big janazah took place today? So many people came for the janazah." On hearing this, she begins to cry. He then asked his wife as to why she is crying, since that person who passed away was naseeb daar (fortunate), can't you see how many people attended his janazah.
Haaji Ebrahim Sahib was part of the shura in tableegh. One extremely outstanding quality in Haaji Sahib was that he would carry out the effort of tableegh with istiqamat (steadfastness). He was very punctual on the the a'maal of dawat, to such an extent that the night before he passed away, he was present for the weekly shubguzarie in Musjid Hilal, Overport.
To access a Bayaan of Hajee Saab's, which he delivered in 2006 , click on the following link –
For the benefit of his family members and close ones, if you know of any touching incident or advices from his life,
PLEASE forward your valuable contributions to us.
Our Contact Details are as follows-
E-Mail – AbuHumza@Tablighuddeen.Com
Whatsapp/Sms- +27 83 328 7867